Wintersday is here! Starting December 11 and until January 2, bells are ringing and snowballs are flying! Take a ride with Toymaster Tixx's golem-shaped airship which is hovering over Divinity's Reach, fight Snowmen and engage in holiday activities!
Something is not quite alright inside Tixx's Infinirarium! The toys have rebelled and are threatening the normal workflow! Enter the Workshop and put an end to the chaos! Also, it seems that the usually serene Snowmen are up to something! Gather your squad and enter their domain to discover their big secret!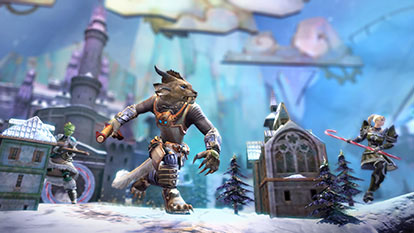 What is more, there is a host of Holiday Activities for some extra fun! Play the Winter Wonderland jumping puzzle and jump from snowflake to snowflake or ring in the season in Bell Choir! Alternatively, you can join the Snowball Mayhem and get heaps of presents or defend gift-bearing dolyaks in Toypocalypse! Additionally, you can earn some extra holiday rewards by participating in the festivities! Finally, you can also give some presents to orphans around Divinity's Reach to spread the Wintersday cheer and get rewarded of course!
For more information, please visit the Official page